DEVELOPMENT OF CRITICAL READING THROUGH THE CINEMA IN THE CLASSROOM: AN EXPERIENCE IN HIGHER EDUCATION
Sandro Alberto Díaz Boada & Catalina Silva Arias, Colombia, ID CLEaR2017-443; Abstract: This document presents the most relevant aspects of the project entitled "Development of critical reading through the cinema in the Chair Cinema, Economics and Society", realized in the academic period 2017-1 for undergraduate students of different careers and semesters of the Industrial University of Santander.
This project was executed with a sample of 26 students taking 13 different academic careers. Being a Context subject, and one of the fastest growing in demand for the School of Economics, the Chair expects students to attend this academic space with the seriousness and reflexivity that the analysis of audiovisual documents and documents about audiovisual requires.
The creator and teacher of the Chair Cinema, Economics and Society –inspired by the Diplomat in Didactic Processes of Reading, Writing and Orality in Higher Education offered by the Industrial University of Santander- tries to integrate elements of Cinema, Economics and Social Sciences mediated by the learning and increase of the Audiovisual capital to promote lexical capital and critical reading in Colombian university students. This text contains the main findings and conclusions of such experience.
Keywords: Critical Reading, Classroom Experience, Writing, Film Criticism, Audiovisual Language, Lexical Capital, Audiovisual Capital
---
* Preferred presentation modality: Regular Paper. // Professor Chair of School of Economics and Administration and the School of Nutrition and Dietetics of the Industrial University of Santander (UIS, Bucaramanga, Colombia). Master's Degree in Social Studies for Latin America (UNSE, Argentina) and Economist (UIS). Diplomat in Didactic Processes of reading, writing and orality in Higher Education (UIS). Founder and Advisor Professor of the Research Seedbed in Film, Audiovisual and Media (SICAM, UIS, 2017). Academic Researcher of the Research Group "History, Archival and Research Networks" (Hared, UIS, 2010- ...).
Speaker in various national and international events in Colombia, Argentina, Chile, Peru, Ecuador, Mexico, Greece and Spain. Creator and Teacher of the UIS' institutional chair "Cinema, Economy and Society" (2014- ...). He has also written in the Revue Gajes del Cineclubismo (National University of Colombia, Bogotá), the Latin American Journal of Social Economy and Solidarity Other Economy and several journals of the UIS. Founder and member of the cine-club cinErrantE alternative film project (2007- ...).
Cine-club cinErrantE won the GOLDEN EYE Prize in the category CINEANDO in the framework of the II FILM FESTIVAL "OJOS AL AIRE LIBRE" (Municipal Institute of Culture and Tourism of Bucaramanga - October 2010). Co-founder and former member of the cinema forum Microcine Inútil (UIS, 2005-2007), and ex Integrant of the cinema forum Suburvios (2003-2005). He currently collaborates with the Cinepidemia collective (Bucaramanga, 2016- ...) and is an active associate of the Argentine Association of Film and Audiovisual Studies (ASAECA, Argentina).
Head of Planning for the University Corporation for Research and Development (UDI, Bucaramanga) in 2014. Part-time Professor for the University Corporation of Science and Development (UNICIENCIA, Bucaramanga 2015-2016). Professor Chair at the Technological Units of Santander (UTS, Bucaramanga 2007-2008) and as Guest Professor at the National University of Santiago del Estero (UNSE) and the Catholic University of Santiago del Estero [UCSE - Argentina (2009-2010)]. E-mail: tesissandro@gmail.com
** Professor Chair and Coordinator of Institutional Space Cinexcusa at the Technological Units of Santander (UTS), Student of the Master's Degree in Education with mention in Curriculum and Didactic Innovation (ARCIS, Santiago de Chile-Chile), BA in Spanish and Literature (UIS). E-mail: catalinas244@gmail.com
---
---
Contact
SlovakEdu
OZ SlovakEdu
Štefánikova 9
949 01 Nitra
SLOVAKIA

IČO: 42118735
DIČ: 2022565633

+421 948 632253
office@slovakedu.sk
---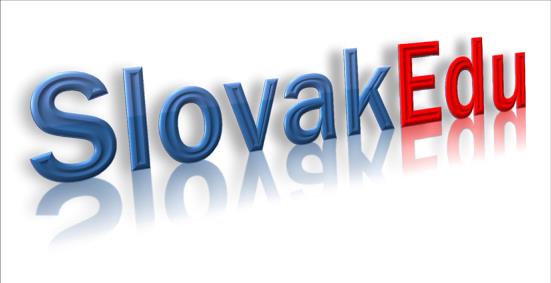 ---