LLCE2019 Virtual session
The virtual session of the conference will be active from December 5th, 2019 to December 31st, 2019. To discuss the papers/presentations/video presentations in the session, the audience can contact authors via e-mail addresses given in each paper individually.
Language Pedagogy
Virtual Session
Chair: Silvia Pokrivcakova
Content-based teaching and plurilingual approach: how deep & how far?
Prof. Zuzana Straková, University of Prešov, Slovakia
Presentation
xxx
Jitka Crhová & María del Rocío Domínguez-Gaona, Universidad Autónoma de Baja California, México
xxx
Problems of bilingualism in the context of mastering a foreign language
Helena Bourina & Prof. Larisa Dunaeva, MGIMO University & Lomonosow State University in Moscow, Russia
xxx
On usage specifications in dictionaries for learners of English: Cambridge Idioms Dictionary and Oxford Idioms Dictionary in focus
Anna Stachurska, University of Technology and Humanities in Radom, Poland
xxx
The role of the addressee in the jury trial discourse
Olga Krapivkina, Irkutsk National Research Technical University, Russia;
xxx
Teaching Receptive Skills and the Elements of Culture through Online Sources to Primary School Learners of English
Karolina Ditrych, Uniwersytet Technologiczno – Humanistyczny in Radom, Poland
xxx
Teacher Beliefs and their Manifestation in Teaching from the Perspective of Pre-service Teacher Trainees
Zuzana Lukáčová, University of Prešov, Slovakia
xxx
Literature & Culture
Virtual Session*
Chair: Anton Pokrivčák
Moment as an Eternity in Woolf's '"Waves"
Natia Zoidze, Georgia;
xxx
Transtextual references and their role in Middlemarchby George Eliot
Agata Buda, University of Technology and Humanities in Radom, Poland
xxx
Kashubian as an ausbau language: a sociolinguistic perspective
Rafał Gołąbek, Uniwersytetu Technologiczno-Humanistycznego im. Kazimierza Pułaskiego w Radomiu, Poland
xxx
Teaching systems in the teaching of literature
Jakov Sabljić & Lorena Đurčević, Josip Juraj Strossmayer University of Osijek, Croatia
xxx
Naïve Narrator – an Effective Means in Humour Creating
Jana Waldnerová, Constantine the Philosopher University in Nitra, Slovakia
xxx
Gender politics in Shakespeare's 'The Taming of the Shrew' as a stimulus for active learning and student engagement in the EFL classroom
Louise Kocianova, Trnava University, Slovakia
---
---
Contact
SlovakEdu
SlovakEdu
Priemyselná 1
917 01 Trnava
SLOVAKIA

IČO: 42118735
DIČ: 2022565633

+421 948 632253
info@slovakedu.com
---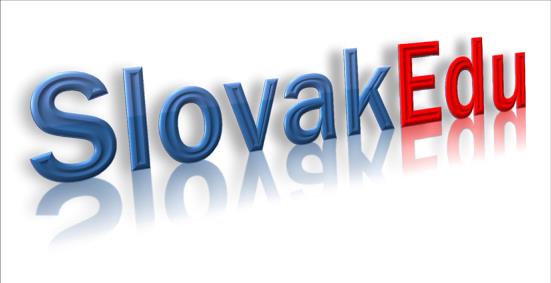 ---