JoLaCE - Journal of Language and Cultural Education
ISSN 1339-4045 (print)
Volume 8, Issue 3 (December 2020)
Ngoc Son Phan: Culinaronyms in formatting linguocultural competence in teaching Russian as a foreign language
DOI: 10.2478-jolace-2020-0018.pdf
Addisu Sewbihon Getie, Dawit Amogne, Zewdu Emiru:
The perceptions of intermediate EFL learners
to the lexical instructional intervention
Jana Bérešová & Alice Micallef: Online interaction descriptors: A tool for the development of tasks for language competences and language use
DOI: 10.2478-jolace-2020-0020.pdf
Muhammad Arif Soomro, Ayyaz Ahmed, Insaf Ali Siming, Mukhtiar Ali Rajper, & Sameena Malik: Towards Investigation of Instructional "Hiccups"
of ELT Fraternity in EFL classroom
DOI: 10.2478-jolace-2020-0021.pdf
Petra Trávníčková: Portfolios within the preschool environment
DOI: 10.2478-jolace-2020-0022.pdf
Peter Kleman:
The effects of guessing confidence on anticipatory behaviour in context understanding
DOI: 10.2478-jolace-2020-0023.pdf
Pinar Sinan Malec: Linguistic complexity of lecturers' class register and its relationship to their personality traits
DOI: 10.2478-jolace-2020-0024.pdf
Uchechukwu E. Madu: Traditional Segregation: Encoded Language as Powerful Tool. Insights from Okǝti Ụmụakpo-Lejja Ọmaba chant
DOI: 10.2478-jolace-2020-0025.pdf
Tamara Kuprina, Anastasia Maltseva, Anna Petrikova: The method of educational programs localization under internationalization of academic environment
DOI: 10.2478-jolace-2020-0026.pdf
Ahmed Joudar: The temporary return to the homeland in Michael Ondaatje's Running in the Family
DOI: 10.2478-jolace-2020-0027.pdf
Volume 8, Issue 2 (November 2020)
Zuzana Straková: Implementation of plurilingual approach into the foreign language teaching
DOI: 10.2478-jolace-2020-0010.pdf
Christopher A. Smith: Establishing a zone of prioritized curricularivity: exploring a critical approach to negotiating multimodal discourses in EFL textbooks
DOI: 10.2478-jolace-2020-0011.pdf
Merilyn Meristo: The French Language Olympiad: Promoting language and culture learning
DOI: 10.2478/jolace-2020-0012.pdf
Beata Gajdošová, Oľga Orosová, Jozef Benka, Guido Van Hal, Vihra Naydenova, Andrea Lukács, Janina Petkevičienė: Life satisfaction, dimensions of internalized cultural values and self-efficacy related to emigration intentions for a long-term stay abroad of university students in five European countries
DOI: 10.2478-jolace-2020-0013.pdf
Jana Majerčíková & Beata Horníčková: The perspectives of parents in relation to the concepts of the quality of pre-school education. Analysis of research discourse
DOI: 10.2478-jolace-2020-0014.pdf
Akram Faravani & Ensie Taleb: Teachers' use of Bloom's Higher Order Questions in Class to Augment EFL Learners' Listening Comprehension and Critical Thinking Ability
DOI: 10.2478-jolace-2020-0015.pdf
Zuzana Součková: Teacher Beliefs and their Manifestation in Teaching from the Perspective of Pre-service Teacher Trainees
DOI: 10.2478-jolace-2020-0016.pdf
Amna Arshad, Syed Kazim Shah, & Muhammad Ahmad: Investigating cultural contents in English language teaching materials through textbook evaluation
Issues since 2017
Issues 2013-2016
* to see the selected print issue, click on the related picture below

2013/1 2014/1 2014/2 2014/3
2015/1 2015/2 2015/3

2016/1 2016/2 2016/3
---
---
Contact
SlovakEdu, o.z.
OZ SlovakEdu
Štefánikova 9
949 01 Nitra

IČO: 42118735
DIČ: 2022565633

+421 948 632253
office@slovakedu.sk
---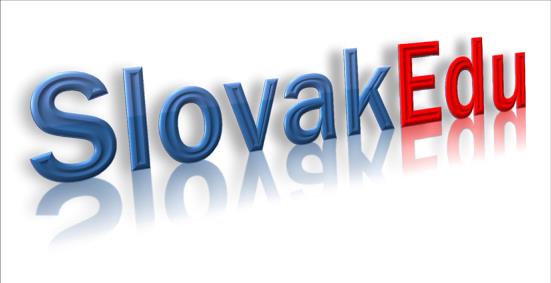 ---