Satisfaction rates with supporting activities for teachers living outside of Slovak Republic
A.Douskova, S.Karikova, D.Smalley, M.Valent, Matej Bel University, Slovakia; Abstract: As part of a long term co-operation between the University of Matej Bel in Banska Bystrica, Ministry of Education, Science, Research and Sport of the Slovak Republic and the Office for Slovaks living abroad, many workplaces of the Pedagogical Faculty of the University of Matej Bel in Banska Bystrica have been working on strengthening the support and identity of Slovaks living abroad temporarily or on permanent basis.
The Government Office of the Slovak Republic has also published a document in response to current situation in the sphere of education – 'Concept of national policies of the Slovak Republic in relation to Slovaks living abroad for the period 2016-2020.'
Significant part of this document is devoted to the performance of the national policies outlined in categories such as upbringing and schooling, education and research. The document also specifies the necessary proceedings that are to be conducted by the Slovak Republic.
Based on the above, we have concentrated on two groups of teachers providing education abroad. The first group of teachers provides education in schools with so called national minorities education programme. This includes countries (Hungary, Serbia, Ukraine, Romania, Croatia) in which Slovak citizens and their descendants meet the status of a national minority. Education withing these communities is intensive and highly supported by the Slovak Republic. The second group of teachers consists of educators from educational centres in western Europe and overseas (USA, Canada). Support from the Slovak Republic is less systematic and less intensive in comparison to the first group.
We have conducted a research in order to outline the satisfaction of the educators in both groups. The research was aimed at aspects of satisfaction withing teaching profession, as well as satisfaction with the performance of the policies outlined in the Concept in order to support the education of Slovak nationals living abroad.
This contribution was supported by the Slovak Research and Development Agency based on contract number APVV – 16 0573.
Key word: minority education, educational centres, teachers, satisfaction with the profession
---
---
Kontakt
SlovakEdu
SlovakEdu
Priemyselná 1
917 01 Trnava
SLOVAKIA

IČO: 42118735
DIČ: 2022565633

+421 948 632253
info@slovakedu.com
---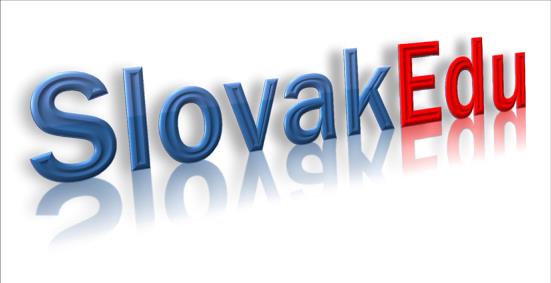 ---